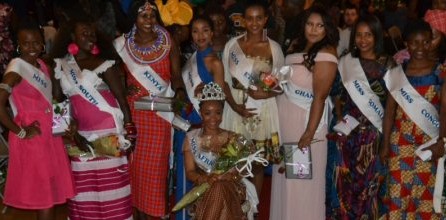 Binta Kaba, the winner of Miss Africa contest, had to make a few sacrifices in order to participate in the contest.
Having just a few days to prepare and a baby taken ill, she had to battle whether or not to go on with the contest. With courage and patriotism for her country, the love she has for Africa and her husband's support, she not only participated but won the title.
The Miss Africa Beauty pageant with the theme "Beauty with a purpose" was held at the Bergen International Cultural Centre (BIKS) and was arranged and coordinated by the Organisation of African Associations in Bergen.
The event was graced by beautiful contestants from Liberia, Kenya, Sierra Leone, Ghana, South Sudan, Ethiopia, Somalia, Congo and Uganda. Following the Beauty with a purpose theme, the contestants were judged according to their stage presence, confidence, their Africa traditional wear, the casual wear, first impressions, posture, appropriateness and the way they answered the questions. Binta Kaba, who was representing Sierra Leone, emerged as the winner and was automatically an ambassador for African young women in Bergen vowing to use the crown to help, support and work with and for the welfare of the African Community in Bergen.
"I am very proud to be the face of Africa in Bergen."
Binta Kaba was clearly the audience's favourite as she gracefully entered the runway with her traditional regalia, her authenticity and confidence during the questionnaire and her beauty.
-I am very proud to be the face of Africa in Bergen. I am positively overwhelmed. All the sacrifices I made to be part of this contest have paid off. I studied hard, practiced and my baby was sick. But with the help and support from my husband I managed to conquer the crown.
For Kaba, this was her first modelling experience. But she was determined that nothing would stop her from showing how proud she is of her country and the whole of Africa. She goes on to mention the Ebola pandemic that sent her country into a state of emergency leaving a lot of people in despair and many children as orphans.
-I am planning to use the crown for humanitarian purposes. There are a lot of people who have no drinking water or a single meal while we have the opportunity to make a difference. Ebola has devastated my country and I am sure the whole world was affected in some way. This is why I believe that participating in this contest is a way of saying we are conquerors.
"We Africans have an obligation to change positively how people view us."
Kaba proves her confidence in carrying the crown by wanting to be the mediator between Africa and Norway, doing so by giving information about diversity and breaking intercultural differences. This in turn she says, will strengthen integration and create cultural understanding.
– I think this crown will also help me to educate and enlighten people on the beauty and diversity of Africa. We Africans have an obligation to change positively how people view us.
She has expressed gratitude on her Facebook page by thanking all the people involved.
– Thank you all for the support and special thanks to SLWOH. We all represented our countries well with pride and elegance showing the diverse beauty and culture each African country has. As Miss Africa Bergen this automatically makes me the ambassador of Africa in Bergen. I therefore assure all Africans in Bergen that I will represent and work with them like a team.